5 classic chronograph watches to start your collection and keep forever
Estimated reading time: 15 minutes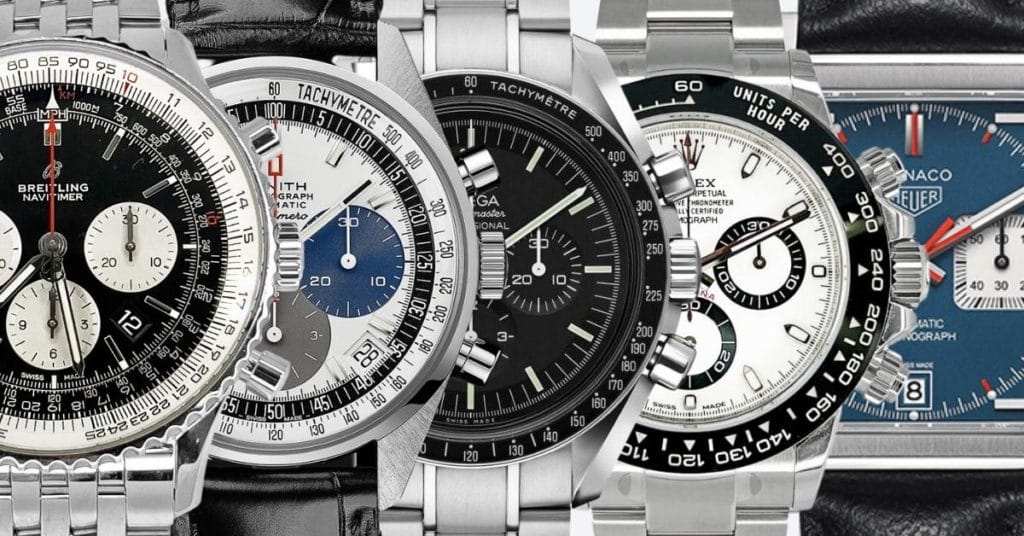 Chronograph watches are some of our biggest sellers here in Australia, and it is not hard to see why!
There is something undeniably unique about the overall look and feel of a 'chrono', from the detailed dials and pushers, to a history firmly rooted in astronomy, motor racing, aviation and even a trip to the moon. No wonder that many of them have a special place in horological history, most notably the five we profile here today: the OMEGA Speedmaster Professional 'Moonwatch' or 'Speedie', Rolex's Cosmograph Daytona, Zenith's El Primero, TAG Heuer's Monaco and Breitling's Navitimer.
Before we dive in and profile each classic chronograph, let's first understand what a chronograph watch is, and how they evolved to become the ultimate tool watch.
What is a chronograph, and how do they work?
How do you know you are looking at a chronograph watch?
Chronographs are visually distinctive and unique in that they have a number of sub-dials on the main dial, as well as two pushers (see below for a visual breakdown). The, two or three, sub-dials are set on the main dial and display/record seconds, minutes and hours.
If the watch has two sub-dials it is known as a bi-compax or twin-register chronograph, or with three it is a tri-compax or triple register chronograph.
The two pushers are usually at 2 o'clock and 4 o'clock. One starts and stops the timer, while the other resets it.
Another clue you are looking at a modern chronograph is the tachymeter scale on the bezel of some models – notably the Omega Speedmaster Professional and Rolex's Daytona. This reflects their origins in racing, as a tachymeter allows you to calculate the speed of a moving object, like a car, over a set distance – using the main second hand on the dial.
And if you are wondering about the term 'chronograph', it comes from the Greek: 'chronos' = time, and 'graphos' = to write, so a watch that can literally 'write time', just like a stopwatch.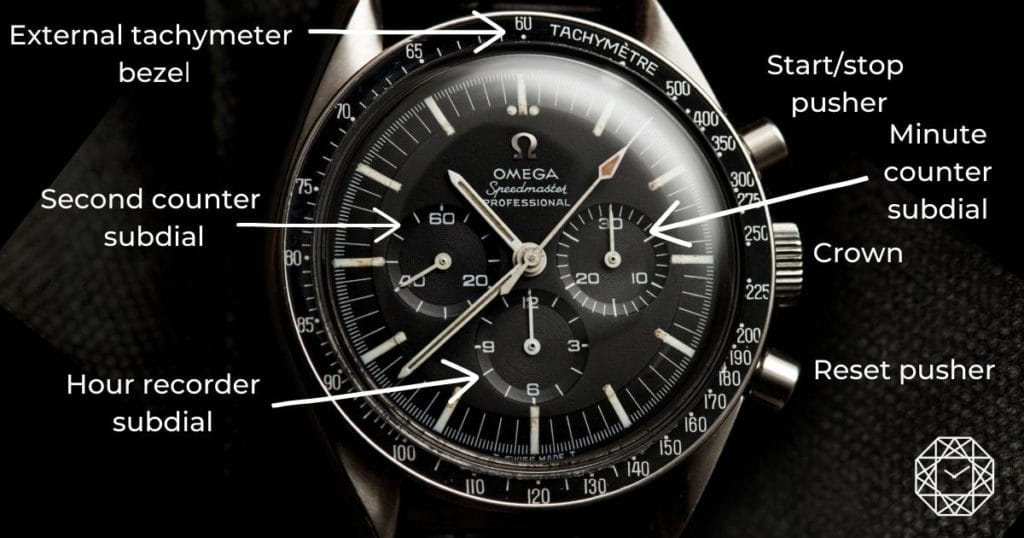 There are also a few variations on the 'standard' chrono, in the form of rattrapante or split-second/double chronographs and flyback chronographs – which add a little more functionality. With a flyback chronograph you can reset the stopwatch to zero with a single press of the second pusher, without stopping what you are timing. Release the pusher and the timer restarts again.
A rattrapante or split-second chronograph gives you the ability to measure intervals, using one of the second dials for this function. You may also come across a monopusher chronograph, like Panerai's Luminor 1950 Ceramic 8 Days Chrono Monopulsante GMT, with all functions controlled by one pusher. The downside is you can't do interval timing with a monopusher, though it looks 'cleaner' – this is an exception to the chrono 'rule'.
We also mustn't confuse a chronograph with a chronometer rated watch.
What is the difference between a chronograph and a chronometer?
A watch that carries chronometer certification has been tested for accuracy and precision by the Contrôle Officiel Suisse des Chronomètres or COSC – the Swiss time keeping geeks. To qualify for this accreditation a movement must be within certain limits or 'tolerances' – in terms of how much time it gains or loses over 24 hours. Over the years three brands – Rolex, Omega and Breitling – consistently top the list for the most certificates awarded by COSC.
Let's now look at how chronographs evolved, and some key moments in their history.
Chronograph watch history and key milestones
We can trace the first chronograph back to 1816, which was developed for use in the
field of astronomical equipment by Louis Moinet, with the first chronograph going on sale in 1821. Fast forward to 1933, and Breitling was the first watchmaker to actually patent a chronograph with separate start/stop and reset pushers. They perfected this in the form of the Breitling Navitimer (1952), which was developed with the input of pilots.
It's OMEGA's turn next (1957), with the release of the Omega Speedmaster, originally aimed at racing drivers, but which caught NASA's attention (1965) as a robust tool watch to survive the rigours of space. Four years later the watch lands on the moon strapped to Buzz Aldrin's wrist, and a legend is born. You can call the late 60's and 70's as the peak era of the chronograph, as they emerged in this timeframe, and soon gained the attention of the watch buying public.
Let's not forget Rolex, whose Cosmograph Daytona (1963) is inseparable from motor racing and a certain Mr Paul Newman, but more on that later. The brand actually used Zenith's El Primero movement for many years, examples which today are much sought after by collectors. Zenith's movement was the world's first automatic chronograph (1969), and also the world's fastest beating chronograph at 36,000 bph.
Another brand closely linked to racing and Formula 1 is TAG Heuer, whose founder Jack Heuer was a petrol head. He had the foresight to sponsor the Ferrari team in 1971, whose drivers started to wear their watches – with the brand's Carrera chronograph getting crucial exposure in the process.
5 classic chronographs to start your collection
Let's now look at these 5 classic chronographs in more detail, and we'll leave it to you to decide which is your pick!
Breitling Navitimer: Top Gun Pilot's Chronograph
Key feature: The extremely detailed dial and bezel, and doing calculations with that slide rule!
3 things to know about the Breitling Navitimer…
The Navimitmer was the first chronograph to go to space, when astronaut Scott Carpenter wore the watch on the Aurora 7 spacecraft in May 1962.
You can do some basic calculations with this watch, including multiplication, division and working out speed and distance.
Famous Navitimer fans include John Travolta (who is an aviator), Jerry Seinfeld and fellow comedian Dave Chapelle.
Model to buy: The classic Breitling Navitimer B01 AB0127 Black Dial Chronograph Stainless Steel 43mm, which is a lot of watch for your money! If you are wondering about Breitling Navitimer prices in Australia, these range from $8.5k to $10k depending on the model, condition and if the watch has a box and papers.
If you think there is a lot happening on the dial and rotating bezel of a Breitling Navitimer, that is exactly what appeals to pilots and other tool watch geeks. What can you calculate with a Navitimer and its rotating bezel? You can do some basic calculations, including multiplication, division speed and distance – with many handy tutorials available on YouTube or Breitling's own website.
Breitling was the first watchmaker to actually patent a chronograph (1933) with separate start, stop and reset pushers. In fact, Gaston Breitling, son of founder Léon, suggested adding a single pusher to control the chronograph functions, with a second reset pusher added a few years later. This separated the functions to two buttons and other brands producing chronographs soon followed the design. This became the iconic Breitling Navitimer, originally released in 1952 and developed with the input of pilots and aviators. The model's name combines two crucial elements pilot's need access to: 'navigation' and 'time'. It has since become the pilot's watch, with the distinctive slide rule bezel its key feature.
Since 2009 the brand moved to an in-house movement, and the Navitimer is now powered by the rock solid in-house B01 caliber. The original case size of the Navitimer is 41 mm, but there are now models for men and women, ranging from 35 mm to 43 mm. The Navitimer also comes in a wide range of materials and designs, though expect to pay more for models with the B01 modern movement, with the Breitling 13 caliber more affordable. Collectors also pay top dollar for Navitimer's powered by the legendary automatic Caliber 1 movement, developed in conjunction with Jack Heuer's emerging brand. This was one of the first self-winding chronographs, released in 1969 around the same time as Zenith's iconic El Primero.
OMEGA Speedmaster Professional: To the moon (and back)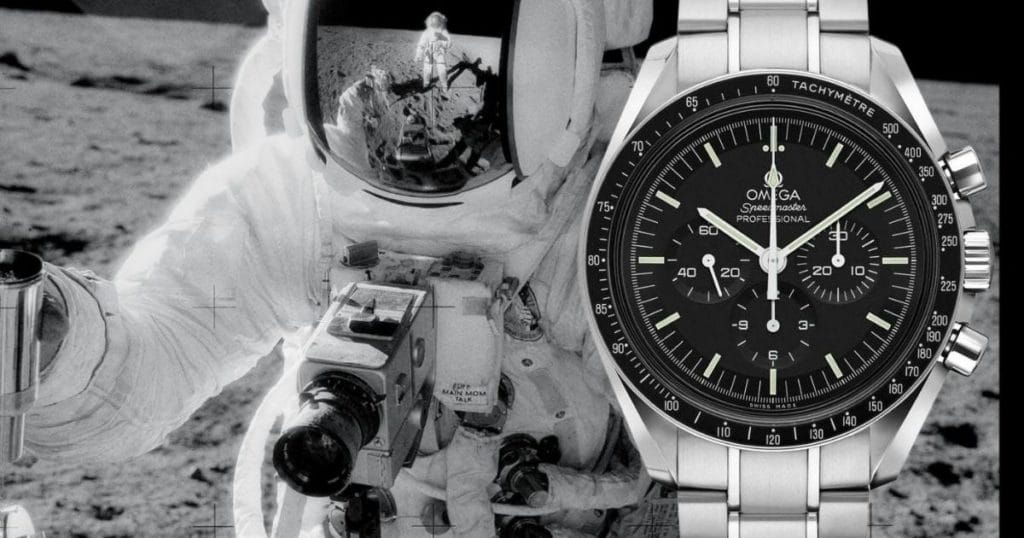 Key features: Iconic design, bombproof and been to the moon!
3 things to know about the OMEGA Speedmaster Professional…
An OMEGA Speedmaster Professional was used by Apollo astronauts to time a critical manoeuvre that helped the Apollo 13 crew to return safely home to earth.
The OMEGA Speedmaster Professional is the only watch certified by NASA for space walks.
The OMEGA Speedmaster Professional was the only piece of equipment that went to space totally unmodified by NASA.
Model to buy: Omega Speedmaster Professional Master Chronometer, featuring the excellent caliber 3861 movement, step dial and Dot-Over-Ninety bezel. With modern internals and design cues that acknowledge earlier models, this model covers all the bases! If you are wondering about the price of the OMEGA Speedmaster Professional Moonwatch in Australia, these range from $7,600 to $10,800 depending on the model, condition and if it has paperwork and a box.
If you want a chronograph with history (and then some) look no further than the OMEGA Speedmaster Professional – otherwise known as the Moonwatch or just 'Speedie'. Thanks to NASA, who trialled a few watches from different manufacturers, before selecting the Speedmaster for the first manned mission to the moon. It was the only timepiece that survived the stringent tests they put it through, including shock, and extremes of heat and cold. And so on July 1969, it became the first watch on the Moon – and gave OMEGA an amazing store of marketing collateral. You can buy endless versions of this model, including the much in-demand Silver Snoopy Award 50th Anniversary, versions in 18ct gold and platinum as well as the 44.25mm Speedmaster Dark Side of the Moon and vintage inspired Speedmaster '57.
Recent versions come with either a Hesalite crystal or stainless steel caseback and the modern caliber 1861 movement, or the updated Moonwatch which has the METAS-certified OMEGA Co-Axial Master Chronometer Calibre 3861. If you find an original vintage 'Ed White' Speedie with a 321 movement be prepared to pay for it, though OMEGA has also revived it in their updated Heritage line.
Rolex Daytona Cosmograph: The ultimate sports watch?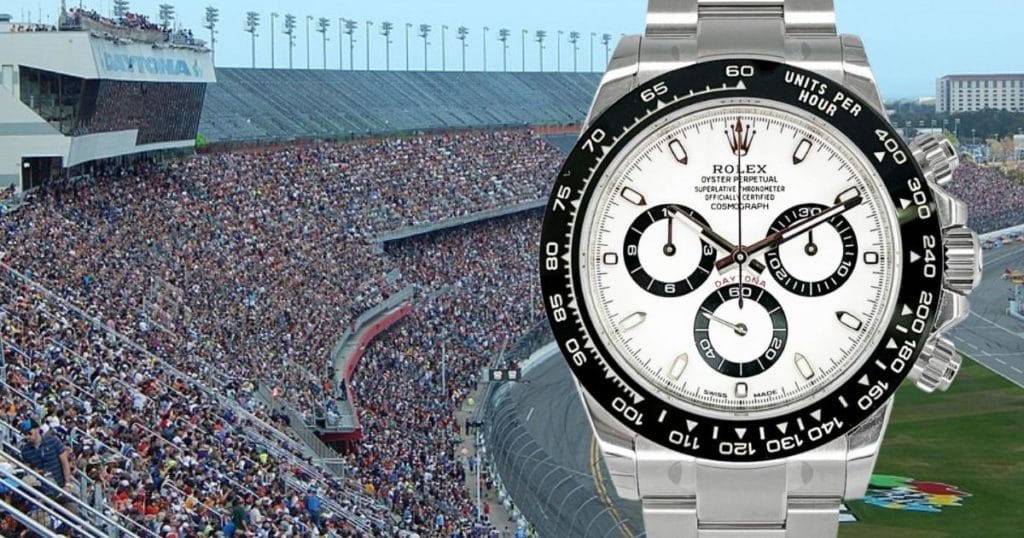 Key features: Classic sports chronograph design, with modern versions spotting striking inverse subdials, with contrasting colours.
3 things to know about the Rolex Daytona Cosmograph…
The Daytona is named after the famous Daytona International Speedway track in Daytona Beach, Florida.
Actor and petrolhead Paul Newman played a big part in popularising the Daytona, after receiving a reference 6239 as a lucky charm gift from his wife Joanne Woodward.
The Rolex Daytona, released in 1988, used a modified Zenith 'El Primero' automatic movement, which replaced the manual movement used from 1963 until then.
Model to buy: The stainless steel Rolex Daytona ref. 116500LN2016 with a Cerachrom (ceramic) bezel, released in 2016 – but be prepared to pay for the privilege! Available in white and black dial, with the white dial marginally more popular. If you are looking for a ballpark Rolex Daytona price for Australia, expect to pay in the region of $76,000 for the stainless steel version.
Is the Rolex Daytona Cosmograph the ultimate sports chronograph? Many people think so, especially when you throw in a heritage that includes motor racing – notably the 24 hour endurance race that takes place at the famous Daytona International Speedway track in Daytona Beach, Florida. This is also where the model gets its name, though it only became popular thanks to an early owner – a certain Mr. Paul Newman! Lucky Newman, who was a petrol head, was gifted the watch by his wife, actress Joanne Woodward – and the rest is history – including the astronomical price his watch fetched at auction. In October 2017, his model Rolex Daytona 6239 sold for US$17.75 million, though this figure included the auction house's cut (12.5%). The watch itself attracted a winning bid for a cool $15.5 million.
Other hints to its sporting heritage include the tachymeter scale on the bezel, which can be used to measure speed over a set distance. Daytonas are available in a number of versions, including stainless steel, gold, platinum, as well as a two-tone stainless steel/gold model. You will often pay less for the gold/stainless steel ref. 116523 – which is not logical as it contains 18 karat yellow gold, but everyone wants the steel model.
TAG Heuer Monaco: Cool to be square
Key feature: That square 38mm case design, obviously!
3 things to know about the TAG Heuer Monaco…
The TAG Heuer Monaco was one of the world's first automatic chronographs, and the first water-resistant chronograph with a square case.
There were 6 TAG Heuer Monaco's on the set of Le Mans that Steve McQueen wore during filming. One went missing on set, and the remaining five have all since gone to auction, with the last of these selling for US$2,208,000 in 2020. The seller was McQueen's personal mechanic on the film set, Haig Alltounian.
Heuer's decision to place the crown on the left side of the original Monaco's case was a first for chronograph watch design.
Model to buy: TAG Heuer's Monaco ref. CW2111 with a black dial is the most affordable entry into this model, though the new TAG Heuer Monaco with Calibre 11 movement and original spec 'leftie' crown is also a great buy. Expect to pay in the region of $7,800 to $8,750 for a TAG Heuer Monaco Calibre 11 in Australia, depending on condition and if it has papers and a box.
If there is a theme here for brands, it is that it helps if a celebrity wears your watch (or it goes to the moon) – a lot! Like Rolex and Paul Newman, TAG Heuer got endless exposure for its association with actor Steve McQueen, after he chose to wear the Monaco in the 1971 film Le Mans. The original reference 1133 was unique, and different from modern versions, as it had pushers at 2 and 4 o'clock, and the first crown at 9 (on the left), and counters at 9 and 3. Modern models, which were reintroduced in 1997, differ in that they have moved the crown to the right of the case, and some have also introduced a third, hour recorder sub-dial.
There are numerous modern versions of the now- iconic Monaco, including white, black and green dials – though the original blue with leather rally strap is the one we would want in our collection. There is also a Gulf branded model, from the brand's association with Gulf Oil International, who used to sponsor motorsport in the 1960's and 70's.
Zenith El Primero: The High-Beat Movement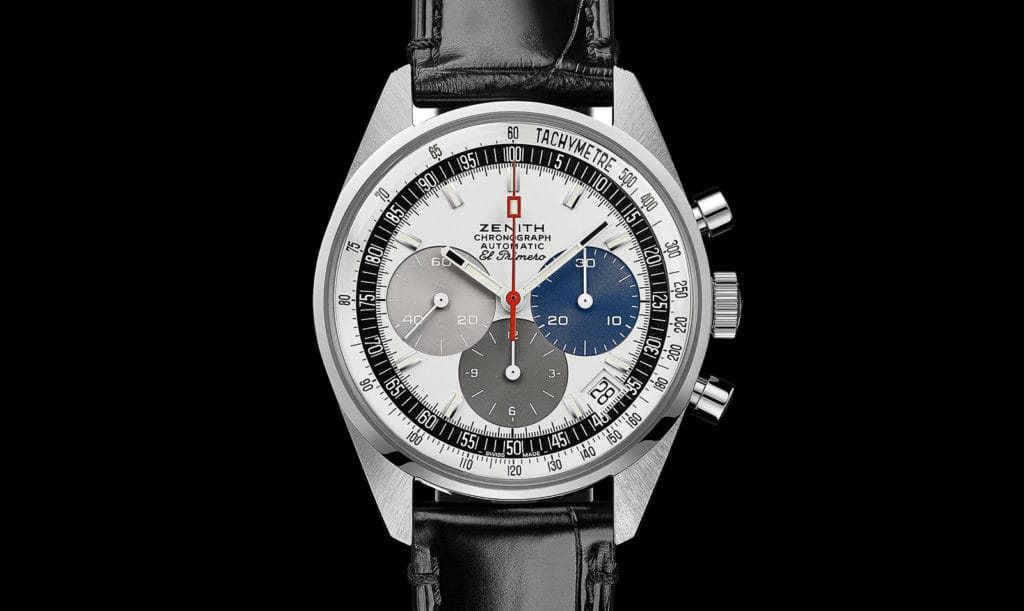 Key feature: That high-beat movement!
3 things to know about the Zenith El Primero…
The El Primero movement is the world's fastest beating – or high-beat – chronograph at 36,000 bph.
Zenith was shut down in 1975 after quartz driven watches took the world by storm, but was leter resurrected in 1984.
Zenith supplied modified El Primero movements to Rolex, specifically for the Daytona ref. 16520 which was released in 1988.
Model to buy: The Zenith Chronomaster Revival El Primero ref. A384 is a modern take on the original reference, with the classic case shape and iconic movement. You can expect to pay anywhere from $10,500 to $13,500, assuming mint condition and papers are present.
Last but not least, Zenith's El Primero (the first) movement was the world's first automatic chronograph (1969), and also can claim the title for the world's fastest beating – or high-beat – chronograph at 36,000 bph. And we are lucky to have this piece of high-end engineering with us today, after all the El Primero and mechanical movements were nearly destroyed at the height of the Quartz Crisis in the 1970's.
Thanks to one Charles Vermot, an employee of the company, who squirrelled away all the critical blueprints and tools necessary to make the El Primero – which helped resurrect the brand in 1984. The brand continues to innovate the movement, producing the Zenith El Primero 21 in 2017, which featured a 1/100th of a second chronograph.