Sketching time: The watch art of Julie Kraulis
Estimated reading time: 5 minutes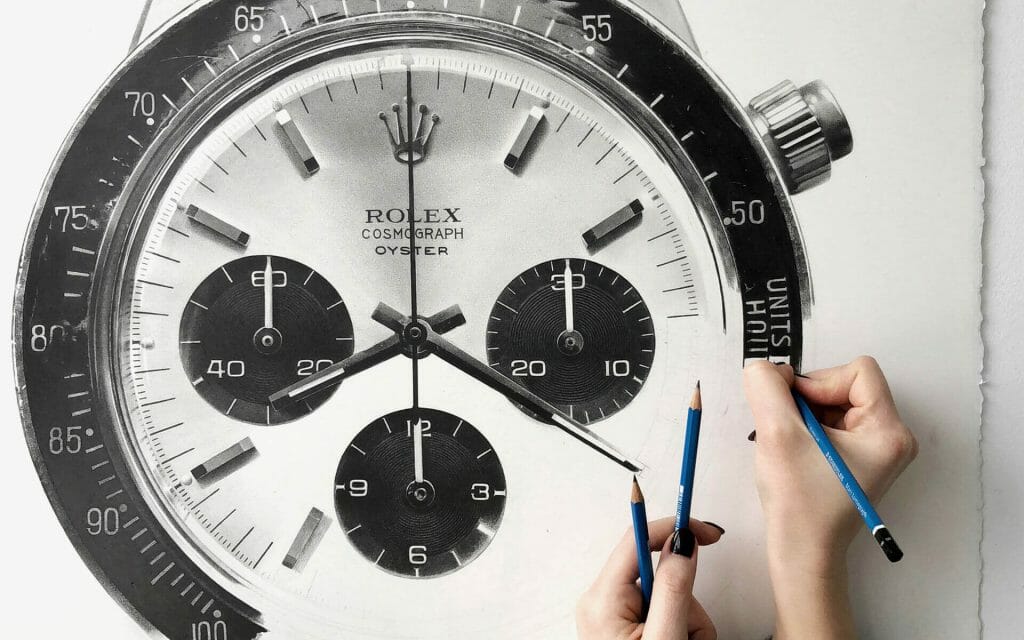 We are in awe of Julie Kraulis, who creates extremely detailed, large scale pencil drawings of classic watches
Take a moment to appreciate the art of Toronto-based Julie Kraulis, who has carved out a niche with her detailed, large scale pencil drawings of classic watches from Rolex, Omega, Cartier, A. Lange & Söhne, TAG Heuer and more.
Yes, pencil – not a medium you would expect to find being used to painstakingly reproduce high end luxury timepieces. She loves the humble pencil so much, she describes it as, '…an extension of my hand, mind, and soul'. And people have been taking notice – including TAG Heuer and Omega, who have commissioned her work. Thanks to her association with Omega she has even met some of the legendary 'Moon Team', including Buzz Aldrin. Not bad work if you can get it.
Zaeger caught up with her to find out what drives her passion, her process and much more.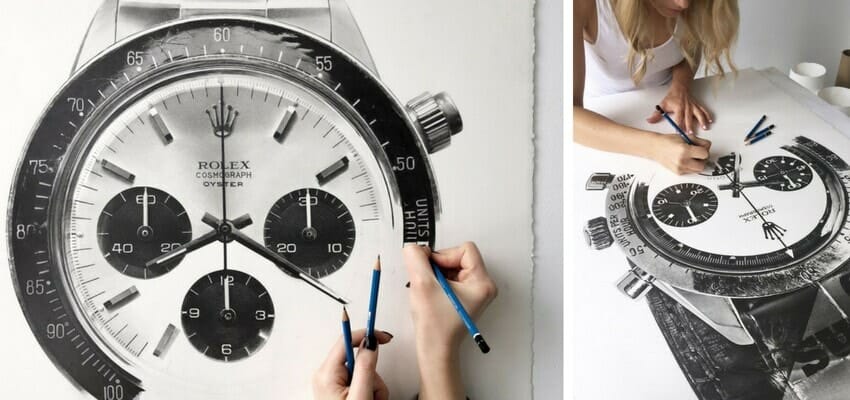 Shop Rolex Cosmograph Daytona
How did your journey with watches start?
I started drawing watches about two years ago. At the time, I was looking for a new subject to explore for a collection of work. I came across an article about iconic timepieces that piqued my curiosity and I had a feeling there would be plenty in the world of watches to inspire.
In terms of brands, which are some of your most commissioned watches?
Heaps of Rolex watches. Quite popular, aren't they?! Submariners, Daytonas, Milgauss, an Oyster Sotto. I've done quite a few OMEGA Speedmasters, too.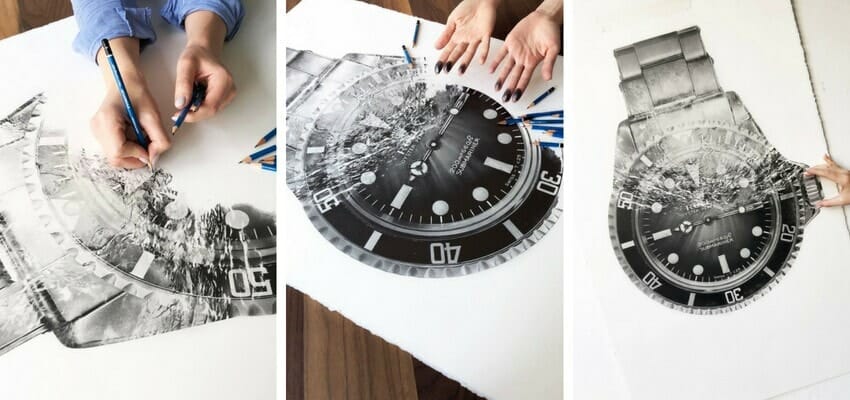 Shop Rolex Submariner
Have you worked with any watch brands yet?
I've had the great pleasure of working with collectors from all over. In terms of brands, I've worked with TAG Heuer and OMEGA and look forward to opportunities with others in the industry.
Why did you choose pencil?
I have always loved graphite and the ways you can work with it, not to mention its lovely shimmer when you catch it in the right light. I like the idea of using one of the simplest tools to create highly detailed, elaborate pieces of work. It was most likely the tool used to sketch out the concept and design of these icons and so it seems a fitting medium to echo the starting point. Also, I find that the monochromatic palette allows the unique details of a watch to really stand out – line, form, and balance are clearer without the distraction of colour.
What combination of pencil grades do you use?
I work with Staedtler Mars Lumograph pencils in HB, B, 2B, 3B, and 4B grades.
And your paper of choice?
Arches Hot Press. It's gorgeous and the texture really makes the graphite sing.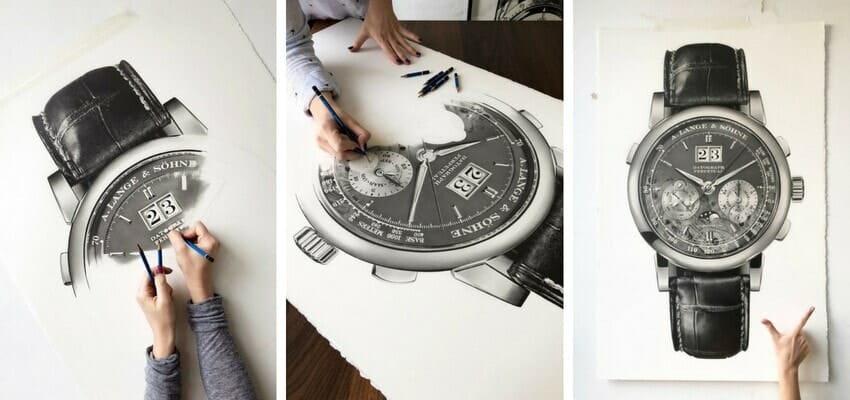 A.Lange & Söhne
How do you prevent the lead from smudging?
I work left to right and top to bottom to minimize smudging. I lay down sheets of paper on top of the artwork while I'm working and spray the finished piece with a fixative to set the graphite in place before shipping. I use a Staedtler kneadable eraser to clean up any unintended marks.
How long is each labour of love?
Each drawing takes anywhere between 200 – 300 hours and around 50 pencils, depending on the level of detail and complexity.
Shop Omega Speedmaster Moonwatch
What is your process for each artwork?
I always start reading about a watch. I'll glean as many details as I can and then I let those roll around, distilling into ideas. There is often a strong theme for each timepiece and that lends itself to a different design approach. I like to incorporate elements inspired by the watch's history and narrative, as well as anything else of significance. From there I sketch out a bunch of ideas and work together with clients refining the idea through a series of mock ups. I then move on to the final stage rendering the artwork.
What is your daily wear – the watch on your wrist everyday?
I'm on the hunt for my first watch. Crazy, I know. I spend all these hours drawing watches and I don't own one! I tend to go through each day untethered, by feel rather than time, and so I've not needed one. Now that I'm working with watches, it's impossible to resist their charm and so I'd like to start collecting.
Brand collaboration/Pencil jar/Press
And for any of our readers who want to own a Julie Kraulis – we presume there is a queue? What are the options to purchase?
There is a wait list for commissioned pieces but of course, I'm always happy to add names and projects to the list. For a different option, I offer limited edition timepiece prints through my shop and I'll be releasing my third in the next little while, a vintage Rolex Submariner 5513 metres first.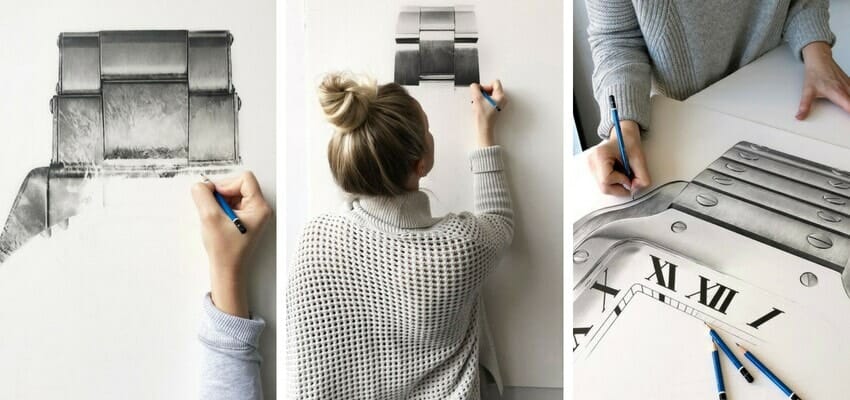 Julie at work
You can follow Julie Kraulis on Instagram, or check out her online shop.