7 luxury watch brands you need to shortlist
Estimated reading time: 11 minutes
You have probably heard of Rolex, OMEGA, Breitling, TAG Heuer and a handful of other luxury watch brands, but what about Zenith, Vacheron Constantin, Grand Seiko, Arnold & Son or A. Lange & Söhne?
These smaller, lower profile brands tend to get left in the shade when it comes to luxury watches in Australia. That doesn't mean you shouldn't consider them for your first purchase or to diversify your collection. They all have top-notch craftsmanship, use high-quality materials, and in some cases have designs and innovative complications that have set the standard across the industry.
Let's jump straight into it and discover 7 luxury watch brands you need to shortlist.
1. A. Lange & Söhne watches
Buy A. Lange & Söhne for: Highly intricate complications and elegant dress watches – like the A. Lange and Sohne Lange 1 above.
Thought the Swiss had a monopoly on high end watchmaking? Think again. Hailing from the town of Glashütte, in what was once East Germany, A. Lange & Söhne – pronounced AY Lan-ge und Zhuh-ne – is proof that "Made in Germany" can do high end, premium watchmaking and then some. A. Lange & Söhne watches are not well represented or well known in Australia, but the brand has a lot going for it!
Founded in 1845 by Ferdinand Adolph Lange, and originally making pocket watches, the Söhne (son in German) was added to the brand name when his son Richard joined the business. Lange got the initial funding for his business from a local Saxon government grant, with the objective of matching the Swiss at their game. This gave birth to the German watchmaking industry, centred in the village of Glashütte.
The brand was nationalised for nearly five decades under communism, but was resurrected in 1990 after the fall of the Berlin Wall – thanks to help from IWC (International Watch Company). It picked up where it left off, crafting timepieces with a focus on simple elegance and technical engineering.
3 things to know…
A. Lange & Söhne have a very limited annual production run, as little as 5,000 watches a year by some estimates.
A. Lange & Söhne is now part of the Swiss luxury goods brand, Richemont group (Compagnie Financière Richemont S.A), which also owns Cartier, IWC Schaffhausen, Jaeger-LeCoultre, Officine Panerai, Piaget, and Vacheron Constantin.
Each A. Lange & Söhne watch is assembled, taken apart and then rebuilt again – call it the Germanic approach to excellence!
Popular Lange & Söhne models: Lange 1, Datograph, Saxonia, 1815 Chronograph and Zeitwerk Date.
2. Arnold & Son watches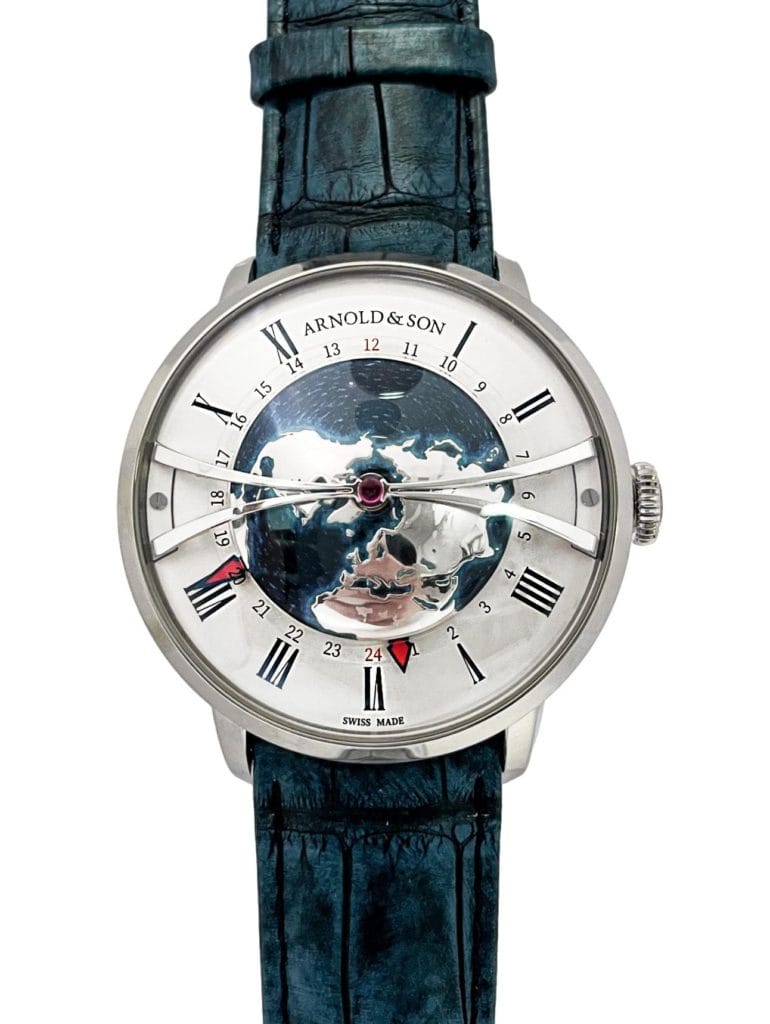 Buy Arnold & Son for: Arnold & Son are best known for producing complicated movements with a high level of finish and accuracy, having developed the first pocket chronometer in 1779.
Arnold & Son watches are a boutique brand that takes its name from John Arnold, an innovative 18th Century English watchmaker known for his technical skill, with chronometers a particular speciality. In 1779 he produced his most famous timepiece, his so-called pocket watch No. 1/36. Though the brand has British roots, today all components are manufactured in Switzerland at La Chaux-de-Fonds, the home of the Swiss watchmaking industry.
An 18th Century English watchmaker who initially plied his trade on London's Strand, John Arnold got his big break when he produced a watch for King George III. He then made a name for himself designing marine chronometers, with three accompanying James Cook's voyages in the early 1770's. In 1779 he produced his most famous timepiece, his so-called pocket watch No. 1/36.
His son, also John, apprenticed to his father and also went to Paris to study under famed French watchmaker Abraham Louis Breguet. Today Arnold & Son are owned by Japanese global watch brand Citizen, who recognised the value and expertise on offer.
3 things to know…
Arnold & Son timepieces feature intricately designed dials, and open-worked, complex movements – producing around 600 watches a year.
All Arnold & Son watches, movements and components are manufactured in-house in La Chaux-de-Fonds, Switzerland.
The brand's watches are strongly associated with exploration, having accompanied expeditions by Dr David Livingstone and Captain James Cook.
Popular Arnold & Son models: Arnold & Son HM Perpetual Moon, Arnold & Son Globetrotter, Arnold & Son DBG Skeleton.
3. Blancpain watches
Buy Blancpain for: The history, superb in-house craftsmanship, and with limited production runs you won't see many Blancpain's around.
Blancpain watches are another brand with a low profile in Australia. Founded in 1735 in Villeret, Switzerland by Jehan-Jaques Blancpain – this makes Blancpain the oldest watchmaker in the world still operating. This, together with their commitment to traditional Swiss watchmaking continues to make Blancpain watches the ultimate prestige timepiece, and a top tier watchmaker for true connoisseurs.
Its most notable watch is the Blancpain Fifty Fathoms, which was designed for the French navy and released in 1953, a full year before the iconic Submariner landed from Rolex. The Fifty Fathoms was subsequently adopted by other navies across the globe, including the US Navy. Its design has helped define what modern sport diving watches look like, with a chunky 45mm case, luminous markings, a rotating bezel and elapsed time scale.
3 things to know…
Blancpain is the world's oldest operating watchmaker, founded in 1735.
Blancpain declared it would never produce a quartz/battery powered watch, ever!
Blancpain's Fifty Fathoms dive watch came out a year before (1953) Rolex's Submariner.
Popular Blancpain models: Blancpain Fifty Fathoms (ref. 5015 12B40 98), Blancpain Fifty Fathoms Bathyscape (ref. 5100B-1110-B52A), Blancpain Villeret (ref. 6668-1127-55B) and Blancpain Leman Flyman Chronograph (ref. 2185F-1130-71).
4. Grand Seiko watches
Buy Grand Seiko for: Simple, classic design, with sophisticated movements and technology inside. Also for the 'bang for yen' you get – with many Grand Seiko models selling for under $10k. Top-notch build quality, equal to anything out of Switzerland, something the Japanese are quite famous for.
Most people will have heard of Seiko, the Japanese brand that makes millions of value-oriented automatic watches a year, but Grand Seiko watches fly under the radar in Australia. Think of Grand Seiko as the Lexus to the parent brand Seiko's Toyota, with mechanical complications replacing the mass produced quartz movements. The most famous of these is the high-frequency Grand Seiko Hi-Beat 36,000, which offers superior precision.
Grand Seiko's watches are manufactured with higher quality materials and are put together by watchmakers as opposed to an assembly line, with annual production in the low thousands. We know of one watchmaker who swears by them and is proud to show off his GS daily wear.
3 things to know…
Every Grand Seiko timepiece is assembled by hand and has to pass the rigorous Grand Seiko Test – higher standards than the benchmark Swiss COSC test (Contrôle Officiel Suisse des Chronomètres).
Seiko's Spring Drive calibre uses mechanical and quartz components for the best of both worlds – precision and the smooth glide of the second hand!
Grand Seiko's Hi-Beat movement beats 36,000 times an hour, for superior accuracy and precision.
Popular Grand Seiko models: Grand Seiko Automatic Hi-Beat 36000 (ref. SBGH005), Spring Drive Snowflake (Ref. SBGA211), Elegance GMT (Ref. SBGM221), Sport GMT (Ref. SBGM245) and the Grand Seiko Sport Professional Diver's 600M.
5. Jaeger Le-Coultre watches
Buy it for: Style with a capital S, and for intricate, classic movements featuring minute repeaters, perpetual calendars and tourbillons.
Jaeger Le-Coultre watches, pronounced: Jeh-jair Luh-cool-truha, is a Swiss brand known for top-notch craftsmanship, and one of a small and exclusive club of brands that produces its own movements. They are renowned for manufacturing elegant dress watches with a slim profile – most notably the Master Ultra Thin range, which has a case of just 8.1mm!
The Reverso is Jaeger Le-Coultre's most iconic watch, with a reversible case that can be rotated so the crystal is face down. Originally designed for polo players in colonial India, the rear case is often personalised, with an inscription, engraving or even a painting.
3 things to know…
The Art Deco inspired Reverso is Jaeger Le-Coultre's most iconic watch, with a unique swivelling case originally designed to protect the crystal.
Jaeger Le-Coultre holds the record for producing the smallest movement in the world, the caliber 101.
Originally called LeCoultre et Cie, the brand changed its name after watchmaker Edmond Jaeger came on board.
Popular Jaeger Le-Coultre models: Jaeger Le-Coultre Reverso, Jaeger Le-Coultre Grand Reverso, Jaeger Le-Coultre Master Ultra Thin.
6. Vacheron Constantin watches
Buy it for: Superb in-house craftsmanship and limited production runs means you won't see many Vacheron Constantin watches in Australia.
Vacheron Constantin, pronounced Vah-sheh-ROHN Kohn-stahn-tahn, is recognised as a top tier watchmaker in the grand Swiss tradition. In fact, alongside Patek Philippe watches and Audemars Piguet they are recognised as part of the unofficial 'Big Three' or 'Holy Trinity" in the world of Swiss watchmaking. Despite this it makes far fewer watches than the other two brands, producing approximately 25,000 pieces a year.
Vacheron is also the world's oldest continuously operating watch manufacturer (1755), while Blancpain holds the claim to the oldest brand still operating, though it hasn't operated over its entire existence. In terms of watchmaking, the brand is known for producing complex movements, including moon phase display, a split-seconds chronograph, minute repeater, and a lunar calendar. It also produced the world's first horological complication way back in 1770 – how is that for a history of innovation!
3 things to know…
Many Vacheron Constantin watches carry the Geneva Seal, an indication they were produced in the canton of Geneva, and meet exceptional standards in terms of quality materials utilised and craftsmanship.
Famous Vacheron Constantin watch owners include Napoleon Bonaparte, model Christie Brinkley, Charlie Sheen, Larry King and method actor supremo, Marlon Brando.
Vacheron Constantin's logo is the Maltese Cross, also known as the Amalfi Cross.

Popular Vacheron Constantin models: Vacheron Constantin Overseas (sport), Vacheron Constantin Historiques American 1921 (dress), Vacheron Constantin Patrimony FiftySix (formal + minimalist) and Métiers d'Art (engraved dials).
7. Zenith watches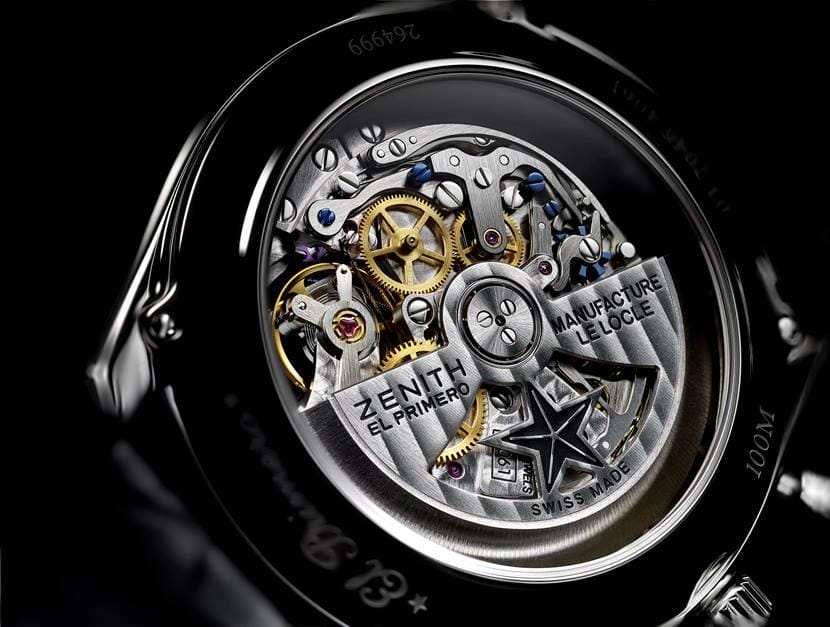 Buy it for: The iconic El Primero movement, and for a watch truly made in-house – with all components manufactured by the brand.
Zenith watches are also relatively unknown in Australia, though internationally they are highly sought after by collectors. This is largely down to the renowned and iconic El Primero (the first) movement. Released in 1969, this was the first automatic chronograph movement, with a high-beat 36,000 vibrations per hour (vph) ensuring high precision timekeeping. Founded in 1865, the brand is still based in Le Locle (Canton of Neuchâtel), though it was acquired by the LVMH Group in 2000, which also owns watch brands Bulgari, TAG Heuer and Hublot.
3 things to know…
A watchmaker hid the company's machinery when the brand went to quartz movements in 1975, returning it in 1984 when demand for mechanical watches rose again.
Zenith holds the trademark for the 'Pilot' name, meaning no other watchmaker can use this term on the dial of their watches.
Founder Georges Favre got involved in watchmaking at age 9, and started his first watch brand at age 22 – though it only became Zenith in 1911.
Popular Zenith models: Zenith El Primero, Zenith Chronomaster Sport El Primero, Zenith Pilot Type 20 GMT, Zenith Defy Zero G.
4 reasons why you should look beyond the big watch brands
Need some reasons to cast your eyes beyond the big brands? Here are four you should know about:
You are unlikely to run into somebody with the same watch on their wrist – and we all know how powerful exclusivity is to human psychology!

Beyond the prestige of buying one of the big brands, opting for something a little more 'exotic' that flies under the radar has its own attraction – and is likely to be a conversation starter in its own right.

If you already have a watch, or even a few, from the big guns – lesser known brands can help you diversify and add some interest and depth to your watch collection.

Buy a lesser known brand and you get access to much smaller production runs, often in the thousands, hundreds and sometimes less.
We have an extensive range of new and pre-owned watches, with stock updated daily. Want to view a watch? It's as easy as getting in touch to arrange a private appointment. We have showrooms in Melbourne and Sydney, where we can help you choose the right watch for you.