10 luxury watches you can buy for less than $10k
Estimated reading time: 9 minutes
You may be surprised to know that you can get a top-shelf, Swiss made watch-for-life for under $10k. Read our article to find out what watch to put on your shortlist
Want to own a luxury watch but don't want to break the bank?
Yes, we know – buying a luxury watch is not an impulse purchase. And $10k is not small change – far from it. Many of us have to save to own a serious watch. Others may choose to spend a bonus or windfall to treat themselves – or their significant other. But you may be surprised to know that you can get a top-shelf, Swiss made watch-for-life for under $10k.
And we are not talking about obscure brands you have never heard of. We chose ten – we could have chosen more – and all the big guys are there, including Rolex. Sure, there is no Submariner – but no one can questions the status of Omega, Cartier, IWC, Panerai and Jaeger Lecoultre as part of the watchmaking elite. Not to mention some very fine pieces from Breitling, Tag Heuer and more.
You can also browse all our luxury watches under $10k – if you want a bigger range.
10 luxury watches you can buy for less than $10K
Let's take a look and see what you can get on your wrist for less than $10k…in no particular order.
1. Omega Seamaster Blue Dial

The whole Omega Seamaster range are priced under $10k, which is phenomenal value if you ask us. What do you get? If you opted for the Omega Seamaster Blue Dial (just under $5K) you can be 007 – yes , this is the Bond watch. That means water resistance to 300m/1000ft, a solid stainless steel case and case back and a classy push button folding clasp. It is also chronometer/COSC certified. And if this baby doesn't tempt you then the rest of the Seamaster range – including the 300m Diver and Planet Ocean – are all fantastic vale and a watch for life.
Buy the Omega Seamaster Blue Dial…if you want to be 007!
2. Rolex Oyster Perpetual Datejust
There are not many Rolex's in this price bracket, but the Rolex Oyster Perpetual Datejust just sneaks in – and is no bargain bin cast off. Rolex doesn't cut corners so you get stainless steel, an automatic movement, solid case back, beautiful silver tone hands and even a date display. And if you choose to get it wet, it is good to 100 metres. And it doesn't just tell the time – being officially chronometer certified means it keeps time more accurately than just about every other watch out there. Also available with a white face and Roman numerals. Buy it – you won't be disappointed.
Buy the Rolex Oyster Perpetual Datejust…if you must have a Rolex on your wrist
3. Tudor Black Bay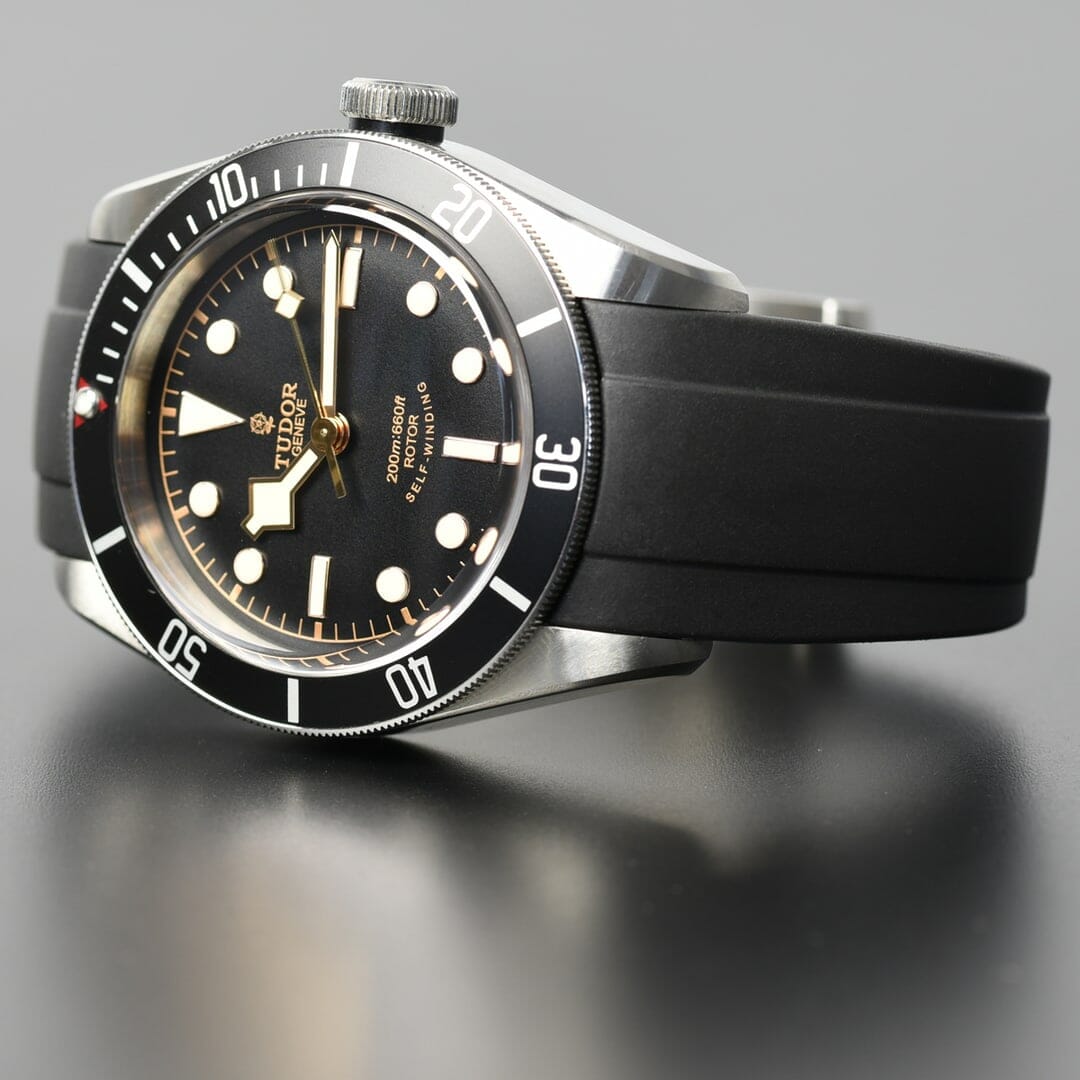 Those who say that the Tudor Black Bay is a poor man's Rolex Sub totally miss the point. Yes, the brand is the little brother of Rolex but that is actually a selling point for us – and should be for anyone wanting a quality timepiece. For a start you often get the same case, crown, crystal, and bracelet as big brother. And while the Black Bay is clearly a tribute to the legendary sub, the detailing is unique and has a totally distinctive, vintage look. And we all know that the vintage look is hot right now – and will be for many years by our reckoning. So what are you waiting for, if you want Rolex quality for less, a Tudor is a no-brainer.
Buy the Tudor Black Bay…if you want a great watch for less
4. Omega Speedmaster Professional

What can we say about the venerable Speedie that has not been said already? It is an icon and rightly so. Not only has it been to the moon – and back – but it also saved the Apollo 13 team when their instruments died. The astronauts used their Omega Speedmaster to navigate back to Earth – true story, no marketing bull here. And we think the Professional Moonwatch is a watch for life, a keeper – something fathers pass down the generations. What do you get? 42mm of brushed and polished stainless steel, with a hesalite crystal and perhaps the most famous chronograph dial out there. It also keeps the time pretty good.
Buy the Omega Speedmaster Professional …if you want to own a true classic
5. IWC Portuguese Chronograph Automatic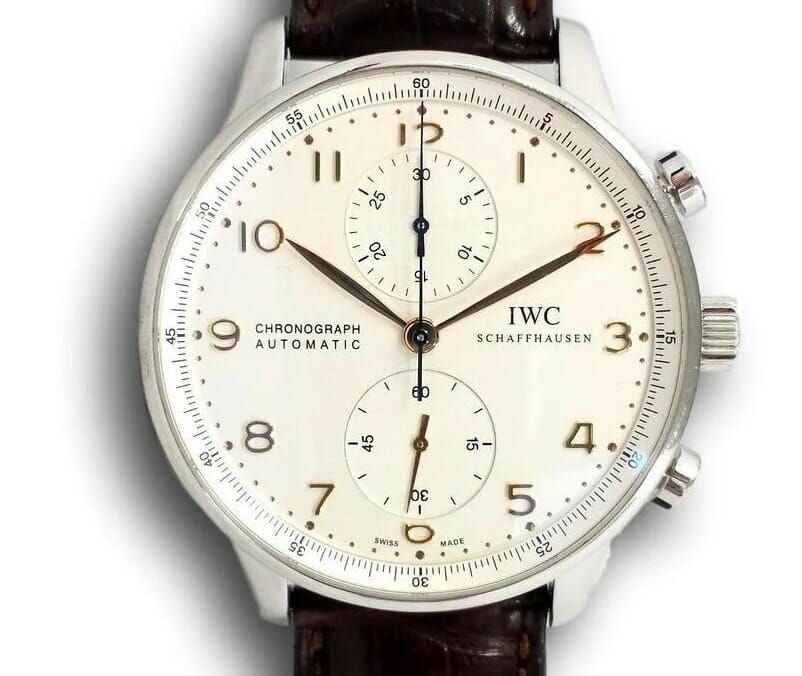 Where can you get an in-house calibre and a stunning dial like that for less than $10k? Not many places is the short answer. Here you get a case size that is just right – or 40.9mm if you want the exact measurement – with ever-so elegant tapered hands. We also love the way the 12 and 6 numerals make way for the chronograph sub-dials. All-in-all an elegant watch that will great dressed up (in leather) or dressed down (with a NATO strap).
Buy the IWC Portuguese Chronograph Automatic..if you want an elegant, versatile watch for life
6. Panerai Luminor Base Logo Stainless Steel PAM1000

Ah Panerai, where have you been all our life. With a dial to die for and the iconic crown-protecting bridge, this PAM1000 is a chunky beast that will turn heads. Under that beautifully domed scratch resistant sapphire crystal lies perhaps the easiest-to-read dial out there – thanks to the bold hour markers. Best on larger wrists, as this Panerai Luminor is not a small watch with a 44mm case size, but don't let this stop you buying it if you think you can pull it off.
Buy the Panerai Luminor Base Logo Stainless Steel PAM1000…if you don't want to spend more than $6,495
7. Tag Heuer Aquaracer Calibre 7 GMT
This is the Tag Heuer Aquaracer Calibre 7 GMT, which weighs in with a 43mm dial, and a rather attractive 'Pepsi' bi-directional rotating bezel. You also get a scratch resistant sapphire crystal, water resistance to 300m and a stainless steel band with a push button folding clasp. And did you notice the classic GMT function – all for under $3k. We think that price is great value for money.
Buy the Tag Heuer Aquaracer Calibre 7 GMT …if you don't want to spend more than $3k
8. Cartier Ballon Bleu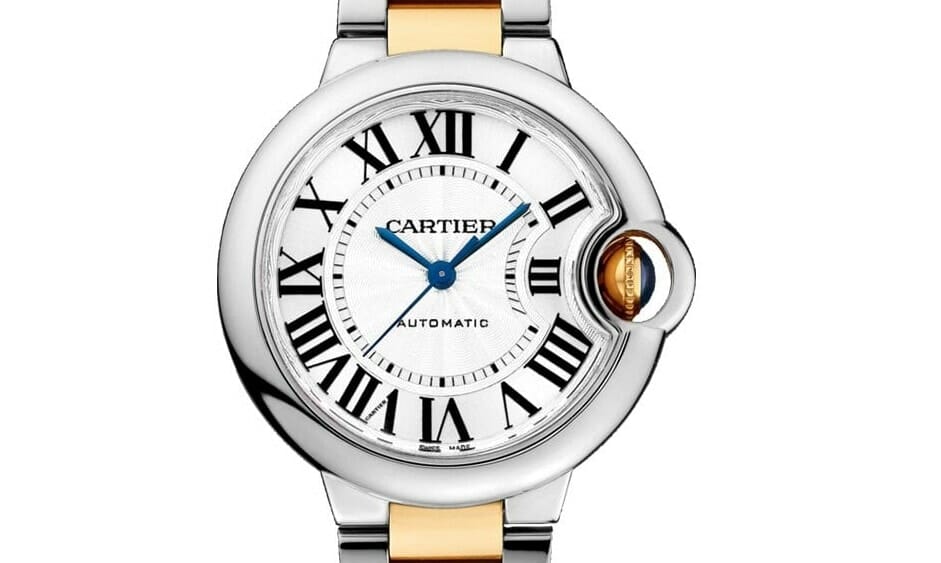 Cartier is a French fashion house, but all the elements of the Cartier Ballon Bleu are Swiss made – and the combination results in a horological work of art. What do you get? Elegant Roman numerals, a date function (only found on the larger 42mm version), stainless steel case and bracelet – and that Cartier trademark, the 'Bleu' sapphire on the crown. And did you notice the detailed pattern on the face of the dial – it oozes quality. Priced at $7,790, we think this is a special timepiece.
Buy the Cartier Ballon Bleu…if you want to be cool like Johnny Depp
9. Creux Automatiq Ghost Gen II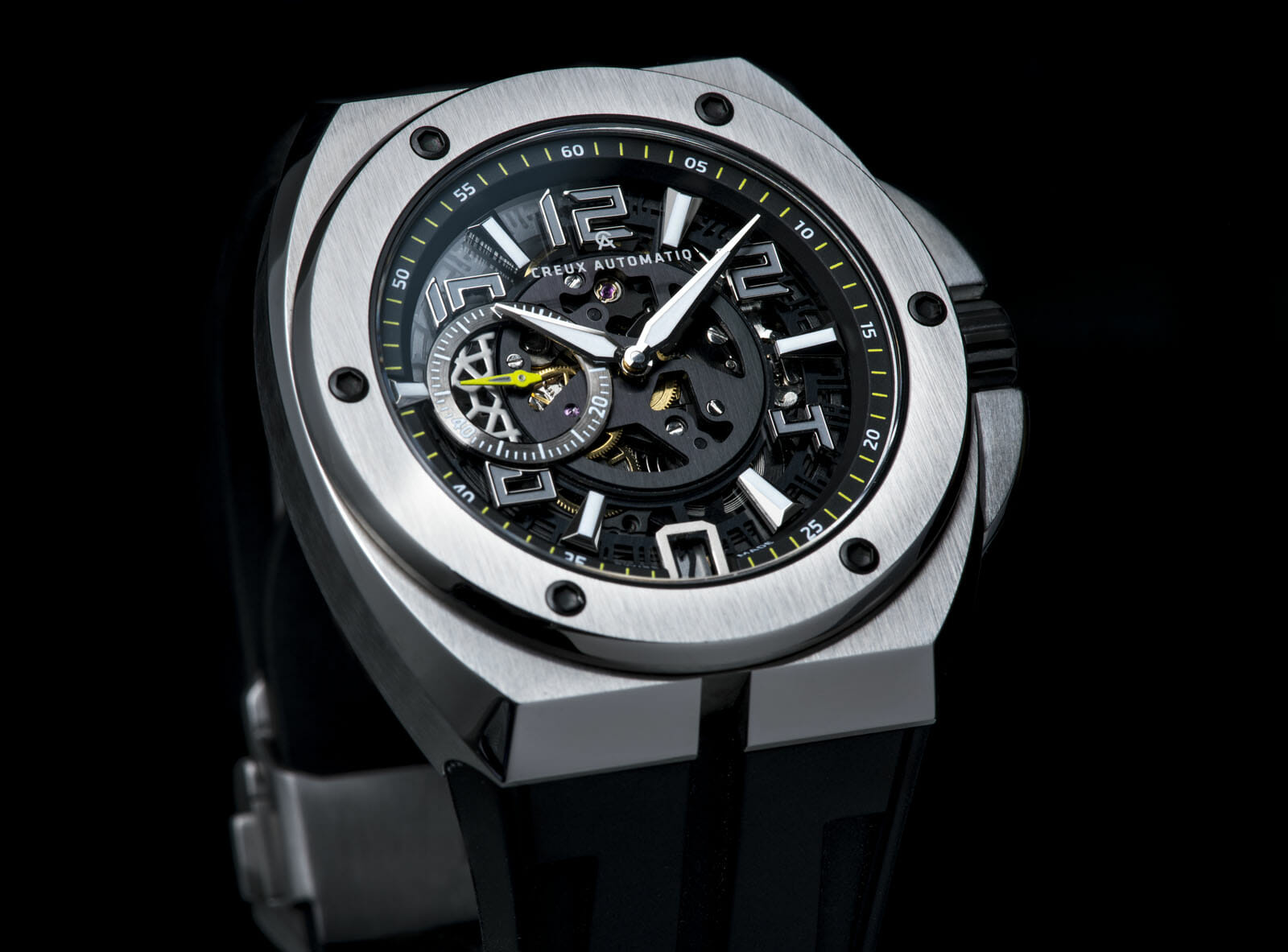 If you look quickly we think this watch could easily be mistaken for a Richard Mille. Ok, maybe without your glasses. Seriously though, you may not have heard of Creux and its Automatiq Ghost Gen II – but we love what they have achieved with this watch. For a shade over $3k you get 316L stainless steel with a titanium matte finished PVD coating, which is super smooth with no harsh edges. And what about that skeletonised date movement – it is sure to get a heap of attention. Let's call it affordable Swiss luxury with very few compromises, and a steal at the price.
Buy the Creux Automatiq Ghost Gen II…if you dare to be different
Shop Creux Automatiq Ghost Gen II
10. Breitling Avenger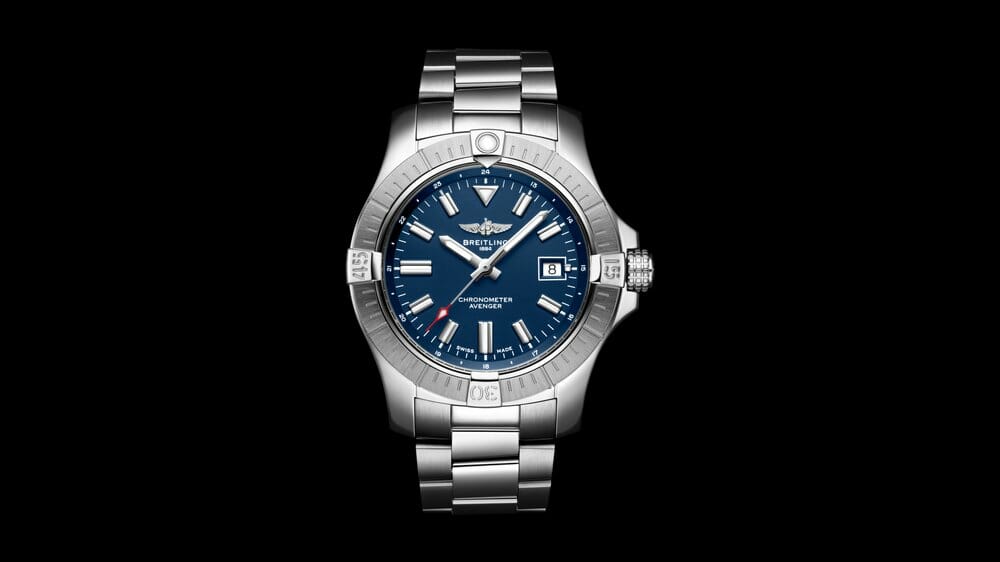 Last but by no means less – Breitling's Avenger range is officially chronometer-certified – like all Breitling movements, so you can be sure it will tell the time pretty damn accurately. And for $5,899 you get a uni-directional rotating stainless steel bezel, three subdials – 60 Second, 30 Minute and 12 Hour, 300 meters water resistance – with a very pretty blue rubber strap. If you like this brand the Avenger will not disappoint – just make sure your wrist can handle the 43mm case.
Buy Breitling's Avenger…if you are a man, or lady, of action